This article is an English translation of the article published in Matrubhumi (Malayalam newspaper) on 30th Sep 2022
Vrindavan in Mathura, Uttar Pradesh, believed to be the birthplace of Lord Krishna, will have a temple modeled after Guruvayurappan temple in Guruvayur, Kerala. The 30 feet high temple will be spread across 65 cents of land. The temple is being built by Mohanji Foundation, a global Spiritual & Charitable organization. INR 120 crore is estimated to be the cost of this project.
The ceremony of seeking blessings and guidance for construction initiation (Acharya Varanam) and handing over of the plan outline was held at Guruvayur Thantri Math on Thursday. Thantri Chennas Dinesan Namboothiripad will be the Chief Priest (Thantri) of the Vrindavan Guruvayurappan Temple. Kuttan Namboothiripad, Kanipayyur Mana, a well known architecture & Vastu expert, prepared the construction outline (Kaikol Kanakku). It was received by Mohanji, the founder of Mohanji Foundation, from Thantri Sri Dineshan Namboodiripad. Sri Kuttan Namboothiripad, Mohanji Foundation CEO Madhusudanan Rajagopalan, Mohanji Foundation family members Milica Miskovic, P. Madhu, TM Anujan, Jayan Bilathikulam, Guruvayoor Devasavam Asst. Engineer Narayanunni and several others took part in this event.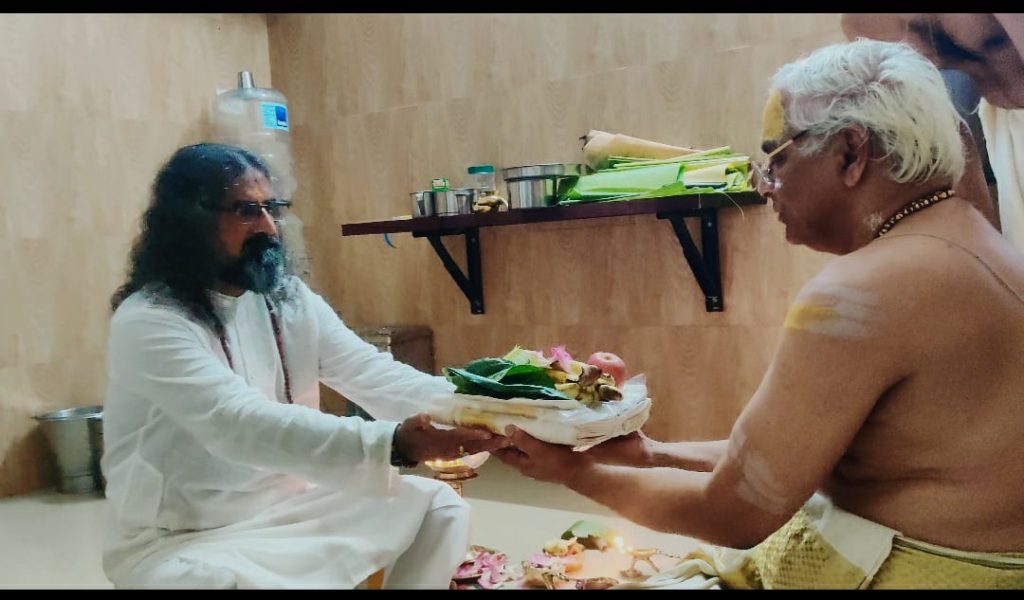 The original Guruvayoor Sreekrishna Temple at Guruvayur is built on a land of about 69 cents in acreage. The Guruvayurappan temple at Vrindavan has been modified with a slight reduction in area and height.
The construction is estimated to be completed within the timeframe of January 15 to July 15, which is the Uttarayana season suitable for temple construction. The main parts of the Shrine & Sanctum Sanctorum, Nadakkallu (stepping stones to the Sanctum Sanctorum), Dhwaja Stambham (Flagpole), Namaskaramandapam, Doorway, Kalvilakku ( large stone lamp in front of the shrine) Shivelipura, Pradakshinavazhi (circumbulation path), Gopurams (entrance gates), etc. will be constructed here in Kerala and then taken to Vrindavan.
It will be assembled at Vrindavan under the supervision of expert engineers and temple architects. Mohanji mentioned that the temple is being built in a unique way without any difference from the construction methods of Guruvayur temple. After the completion of the construction inside the temple wall within a year and a half, the pavements etc. will be built gradually. The pujas & rituals conducted at the Vrindavan are expected to be similar to that held at the temple in Guruvayur.